Workday Training
Training materials available through the Workday Training app contain course material that has been harmonized accross all U of A system institutions. Please keep this in mind as you are reviewing the course materials. Course materials available through the Workday Training app ar linked to 'roles' within Workday that define your job responsibilities. Everyone will also have access to training materials that provide navagation demonstrations for how to maintain your personal information, such as changes to your W-4, address, emergency contacts, benefit information, etc.
Additional University of Arkansas defined course content will continue to be defined and made available via our workday.uark.edu site.
Accessing Harmonized Training Materials
Training is available through Office 365 apps. The recommended browser is Google Chrome.
Navigate to myapps.microsoft.com.
Login with your institution credentials for Office 365. You may be prompted to authenticate via Multi-Factor Authentication (MFA) or setup MFA if you have not done so previously.
Locate and click the 'Workday Training' icon from the available applications list. (You may need to scroll down to see the icon.)
You will automatically be logged into Blackboard.
The courses that have been assigned to you will appear in the 'Courses: Quick View' area.
Watch this brief video on how to access training materials for Workday.
Be sure to follow the instructions on how to complete the Workday Fundamentals and Employee Self Service (ESS) courses. There is an acknowledgement of Completion action that must be finished to get credit for completing the training.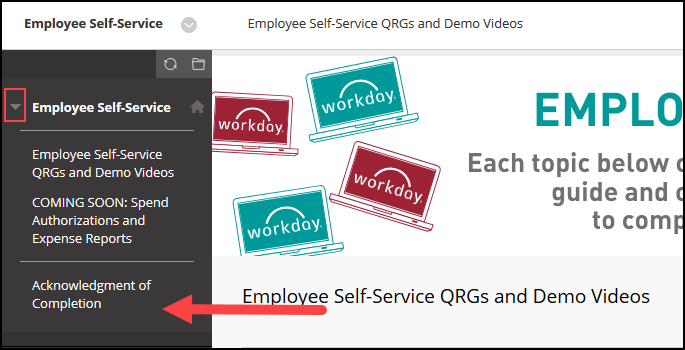 Access to Workday Sandbox
There is a Workday Training Sandbox available through myapps.microsoft.com. You may need to scroll down to see the blue Workday sandbox icon.
This is a great way to familiarize yourself with some of the Workday features. The Sandbox will be refreshed every weekend after go-live.
The Project One team will be refreshing the current Workday Training Tenant (UASYS6) weekly with a copy of the production tenant. This refresh will occur at midnight on Saturdays. Please expect to see the following changes after the weekly refresh of UASYS6:
New and updated data copied weekly from Workday Production
Staged data for training purposes will be deleted and refreshed with current production data
Branding colors in the training tenant to distinguish it is not the live production tenant of Workday (the apps will be red)
Univeristy of Arkansas Quick Reference Guides
Additional Step by Step Quick Reference Guides have been created by the Workday UAF Project Team to assist in processing various business Processes. We will continue to update as training materials are developed.
For a current list of the Finance and Procurement training materials available in the Workday Training App, click here.
Current Guides Available Related to the following:
Additional Instructor-led trainings are being offered by our University of Arkansas, Fayetteville Workday Project Team. Sessions are posted on the HR Employee Development Calendar and are open for registration.
Having Issues
If you are experiencing issues with Workday, please visit the Help Portal to submit a ticket.